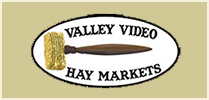 Register for this Auction
(Required to participate)
Valley Video Hay Markets-offering quality alfalfa hay. Valley Video consistantly offers premium hay from Wyoming and Western Nebraska.  Offering over 5000 tons of Dairy and Feeder quality Alfalfa. Selling as a Superior Timed Auction. The auction begins closing at 2:00 MDT.  For more information contact Valley Video Hay Markets at (888) 935-3633. 

PO Box 634, Lingle, WY 82223 USA

800-431-4452

null
NO

YES

NO

To see complete item description, or to leave proxy / absentee bids, click on a lot number or name.
2nd Cutting, 9 Lds., 207 Tons

Location: Gering, NE 69341
closed
Closes in:
Closes On: Feb 27, 2020 14:00:00 PM - 14:03:00 PM MDT
You are high bidder, your max bid is

YOU WON THIS LOT

YOU ARE OUT

YOU DID NOT WIN THIS LOT


High Bid: $158.00 Minimum Next Bid: $159.00 Starting Bid: $159.00

2nd Cutting, 9 Lds., 207 Tons

Location: Gering, NE 69341
closed
Closes in:
Closes On: Feb 27, 2020 14:03:00 PM - 14:06:00 PM MDT
You are high bidder, your max bid is

YOU WON THIS LOT

YOU ARE OUT

YOU DID NOT WIN THIS LOT


High Bid: $154.00 Minimum Next Bid: $155.00 Starting Bid: $155.00

3rd Cutting, 7 Lds., 168 Tons

Location: Douglas, WY 82633
closed
Closes in:
Closes On: Feb 27, 2020 14:06:00 PM - 14:10:55 PM MDT
You are high bidder, your max bid is

YOU WON THIS LOT

YOU ARE OUT

YOU DID NOT WIN THIS LOT


High Bid: $228.00 Minimum Next Bid: $229.00 Starting Bid: $229.00

3rd Cutting, 7 Lds., 168 Tons

Location: Douglas, WY 82633
closed
Closes in:
Closes On: Feb 27, 2020 14:09:00 PM - 14:12:00 PM MDT
You are high bidder, your max bid is

YOU WON THIS LOT

YOU ARE OUT

YOU DID NOT WIN THIS LOT


High Bid: $230.00 Minimum Next Bid: $231.00 Starting Bid: $231.00

3rd Cutting, 7 Lds., 168 Tons

Location: Douglas, WY 82633
closed
Closes in:
Closes On: Feb 27, 2020 14:12:00 PM - 14:22:49 PM MDT
You are high bidder, your max bid is

YOU WON THIS LOT

YOU ARE OUT

YOU DID NOT WIN THIS LOT


High Bid: $236.00 Minimum Next Bid: $237.00 Starting Bid: $237.00

3rd Cutting, 6 Lds., 144 Tons

Location: Scottsbluff, NE 69361
closed
Closes in:
Closes On: Feb 27, 2020 14:15:00 PM - 14:26:19 PM MDT
You are high bidder, your max bid is

YOU WON THIS LOT

YOU ARE OUT

YOU DID NOT WIN THIS LOT


High Bid: $232.00 Minimum Next Bid: $233.00 Starting Bid: $233.00

3rd Cutting, 9 Lds., 207 Tons

Location: Scottsbluff, NE 69361
closed
Closes in:
Closes On: Feb 27, 2020 14:18:00 PM - 14:21:00 PM MDT
You are high bidder, your max bid is

YOU WON THIS LOT

YOU ARE OUT

YOU DID NOT WIN THIS LOT


High Bid: $181.00 Minimum Next Bid: $182.00 Starting Bid: $182.00

3rd Cutting, 1 Ld, 230 Tons

Location: Scottsbluff, NE 69361
closed
Closes in:
Closes On: Feb 27, 2020 14:21:00 PM - 14:31:33 PM MDT
You are high bidder, your max bid is

YOU WON THIS LOT

YOU ARE OUT

YOU DID NOT WIN THIS LOT


High Bid: $172.00 Minimum Next Bid: $173.00 Starting Bid: $173.00

2nd Cutting, 11 Lds., 250 Tons

Location: Scottsbluff, NE 69361
closed
Closes in:
Closes On: Feb 27, 2020 14:24:00 PM - 14:29:50 PM MDT
You are high bidder, your max bid is

YOU WON THIS LOT

YOU ARE OUT

YOU DID NOT WIN THIS LOT


High Bid: $170.00 Minimum Next Bid: $171.00 Starting Bid: $171.00

3rd Cutting, 10 Lds., 230 Tons

Location: Scottsbluff, NE 69361
closed
Closes in:
Closes On: Feb 27, 2020 14:27:00 PM - 14:30:00 PM MDT
You are high bidder, your max bid is

YOU WON THIS LOT

YOU ARE OUT

YOU DID NOT WIN THIS LOT


High Bid: $149.00 Minimum Next Bid: $150.00 Starting Bid: $150.00

3rd Cutting, 6 Lds., 138 Tons

Location: Scottsbluff, NE 69361
closed
Closes in:
Closes On: Feb 27, 2020 14:30:00 PM - 14:33:00 PM MDT
You are high bidder, your max bid is

YOU WON THIS LOT

YOU ARE OUT

YOU DID NOT WIN THIS LOT


High Bid: $148.00 Minimum Next Bid: $149.00 Starting Bid: $149.00

New Seeding, 14 Lds., 320 Tons

Location: Lingle, WY 82223
closed
Closes in:
Closes On: Feb 27, 2020 14:33:00 PM - 14:36:00 PM MDT
You are high bidder, your max bid is

YOU WON THIS LOT

YOU ARE OUT

YOU DID NOT WIN THIS LOT


High Bid: $144.00 Minimum Next Bid: $145.00 Starting Bid: $145.00

3rd Cutting, 6 Lds., 144 Tons

Location: Lingle, WY 82223
closed
Closes in:
Closes On: Feb 27, 2020 14:36:00 PM - 14:45:27 PM MDT
You are high bidder, your max bid is

YOU WON THIS LOT

YOU ARE OUT

YOU DID NOT WIN THIS LOT


High Bid: $165.00 Minimum Next Bid: $166.00 Starting Bid: $166.00

3rd Cutting, 8 Lds., 23 Tons

Location: Bridgeport, NE 69336
closed
Closes in:
Closes On: Feb 27, 2020 14:39:00 PM - 14:42:00 PM MDT
You are high bidder, your max bid is

YOU WON THIS LOT

YOU ARE OUT

YOU DID NOT WIN THIS LOT


High Bid: $146.00 Minimum Next Bid: $147.00 Starting Bid: $147.00

3rd Cutting, 4 Lds., 96 Tons

Location: Riverton, WY
closed
Closes in:
Closes On: Feb 27, 2020 14:42:00 PM - 14:50:00 PM MDT
You are high bidder, your max bid is

YOU WON THIS LOT

YOU ARE OUT

YOU DID NOT WIN THIS LOT


High Bid: $225.00 Minimum Next Bid: $226.00 Starting Bid: $226.00

2nd Cutting, 9 Lds., 198 Tons

Location: Morrill, NE 69358
closed
Closes in:
Closes On: Feb 27, 2020 14:45:00 PM - 14:48:34 PM MDT
You are high bidder, your max bid is

YOU WON THIS LOT

YOU ARE OUT

YOU DID NOT WIN THIS LOT


High Bid: $146.00 Minimum Next Bid: $147.00 Starting Bid: $147.00

2nd Cutting, 9 Lds., 198 Tons

Location: Morrill, NE 69358
closed
Closes in:
Closes On: Feb 27, 2020 14:48:00 PM - 14:51:00 PM MDT
You are high bidder, your max bid is

YOU WON THIS LOT

YOU ARE OUT

YOU DID NOT WIN THIS LOT


High Bid: $144.00 Minimum Next Bid: $145.00 Starting Bid: $145.00

1st Cutting, 10 Lds., 230 Tons

Location: Bayard, NE 69344
closed
Closes in:
Closes On: Feb 27, 2020 14:51:00 PM - 14:54:00 PM MDT
You are high bidder, your max bid is

YOU WON THIS LOT

YOU ARE OUT

YOU DID NOT WIN THIS LOT


High Bid: $156.00 Minimum Next Bid: $157.00 Starting Bid: $157.00

2nd Cutting, 2 Lds., 48 Tons

Location: Gering, NE 69341
closed
Closes in:
Closes On: Feb 27, 2020 14:54:00 PM - 14:57:00 PM MDT
You are high bidder, your max bid is

YOU WON THIS LOT

YOU ARE OUT

YOU DID NOT WIN THIS LOT


High Bid: $127.00 Minimum Next Bid: $128.00 Starting Bid: $128.00

2nd Cutting, 4 Lds., 96 Tons

Location: Gering, NE 69341
closed
Closes in:
Closes On: Feb 27, 2020 14:57:00 PM - 15:00:00 PM MDT
You are high bidder, your max bid is

YOU WON THIS LOT

YOU ARE OUT

YOU DID NOT WIN THIS LOT


High Bid: $125.00 Minimum Next Bid: $126.00 Starting Bid: $126.00

1st Cutting, 4 Lds., 88 Tons

Location: Scottsbluff, NE 69361
closed
Closes in:
Closes On: Feb 27, 2020 15:00:00 PM - 15:03:00 PM MDT
You are high bidder, your max bid is

YOU WON THIS LOT

YOU ARE OUT

YOU DID NOT WIN THIS LOT


High Bid: $85.00 Minimum Next Bid: $86.00 Starting Bid: $86.00

1st Cutting, 5 Lds., 95 Tons

Location: Bayard, NE 69344
closed
Closes in:
Closes On: Feb 27, 2020 15:03:00 PM - 15:06:00 PM MDT
You are high bidder, your max bid is

YOU WON THIS LOT

YOU ARE OUT

YOU DID NOT WIN THIS LOT


High Bid: $70.00 Minimum Next Bid: $71.00 Starting Bid: $71.00

1st Cutting, 6 Lds., 120 Tons

Location: Belleville, KS 66935
closed
Closes in:
Closes On: Feb 27, 2020 15:06:00 PM - 15:09:00 PM MDT
You are high bidder, your max bid is

YOU WON THIS LOT

YOU ARE OUT

YOU DID NOT WIN THIS LOT


High Bid: $.00 Minimum Next Bid: $50.00 Starting Bid: $50.00

1st Cutting, 6 Lds., 120 Tons

Location: Belleville, KS 66935
closed
Closes in:
Closes On: Feb 27, 2020 15:09:00 PM - 15:12:00 PM MDT
You are high bidder, your max bid is

YOU WON THIS LOT

YOU ARE OUT

YOU DID NOT WIN THIS LOT


High Bid: $.00 Minimum Next Bid: $75.00 Starting Bid: $75.00