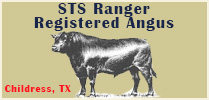 Register for this Auction
(Required to participate)
Being offered as a Superior Timed Auction. Lots will begin closing at 6:00 PM. Offering 50 high quality Registered Angus Bulls from Childress, TX.

16940 FM 268, Childress, TX 79201 USA

800-431-4452

null
NO

YES

NO

To see complete item description, or to leave proxy / absentee bids, click on a lot number or name.
SIRE: EF Ten X 3432
DAM: LD Primrose 3928
closed
Closes in:
Auction Starts Closing on: Apr 27, 2018, 18:00:00 PM CST
You are high bidder, your max bid is

YOU WON THIS LOT

YOU ARE OUT

YOU DID NOT WIN THIS LOT


High Bid: $3,100.00 Minimum Next Bid: $3,200.00 Starting Bid: $3,200.00

SIRE: Quaker Hill Manning 4EX9
DAM: FF Rita 4E05 of 8M56 Elway
closed
Closes in:
Auction Starts Closing on: Apr 27, 2018, 18:00:00 PM CST
You are high bidder, your max bid is

YOU WON THIS LOT

YOU ARE OUT

YOU DID NOT WIN THIS LOT


High Bid: $2,500.00 Minimum Next Bid: $2,600.00 Starting Bid: $2,600.00

SIRE: K C F Bennett Absolute
DAM: MM Miss Rita M18 of OT26
closed
Closes in:
Auction Starts Closing on: Apr 27, 2018, 18:00:00 PM CST
You are high bidder, your max bid is

YOU WON THIS LOT

YOU ARE OUT

YOU DID NOT WIN THIS LOT


High Bid: $3,700.00 Minimum Next Bid: $3,800.00 Starting Bid: $3,800.00

SIRE: K C F Bennett Absolute
DAM: CoX 7M69 Rita 4187
closed
Closes in:
Auction Starts Closing on: Apr 27, 2018, 18:00:00 PM CST
You are high bidder, your max bid is

YOU WON THIS LOT

YOU ARE OUT

YOU DID NOT WIN THIS LOT


High Bid: $2,600.00 Minimum Next Bid: $2,700.00 Starting Bid: $2,700.00

SIRE: WR Journey-1X74
DAM: CoX Blackcap 136U 4118
closed
Closes in:
Auction Starts Closing on: Apr 27, 2018, 18:00:00 PM CST
You are high bidder, your max bid is

YOU WON THIS LOT

YOU ARE OUT

YOU DID NOT WIN THIS LOT


High Bid: $2,500.00 Minimum Next Bid: $2,600.00 Starting Bid: $2,600.00

SIRE: K C F Bennett Absolute
DAM: G A R High Design 1231
closed
Closes in:
Auction Starts Closing on: Apr 27, 2018, 18:00:00 PM CST
You are high bidder, your max bid is

YOU WON THIS LOT

YOU ARE OUT

YOU DID NOT WIN THIS LOT


High Bid: $2,700.00 Minimum Next Bid: $2,800.00 Starting Bid: $2,800.00

SIRE: K C F Bennett Absolute
DAM: STS RGR New Design 4105
closed
Closes in:
Auction Starts Closing on: Apr 27, 2018, 18:00:00 PM CST
You are high bidder, your max bid is

YOU WON THIS LOT

YOU ARE OUT

YOU DID NOT WIN THIS LOT


High Bid: $2,600.00 Minimum Next Bid: $2,700.00 Starting Bid: $2,700.00

SIRE: K C F Bennett Absolute
DAM: STS RGR Windcharm 4409
closed
Closes in:
Auction Starts Closing on: Apr 27, 2018, 18:00:00 PM CST
You are high bidder, your max bid is

YOU WON THIS LOT

YOU ARE OUT

YOU DID NOT WIN THIS LOT


High Bid: $2,600.00 Minimum Next Bid: $2,700.00 Starting Bid: $2,700.00

SIRE: K C F Bennett Absolute
DAM: STS RGR Windcharm 3114
closed
Closes in:
Auction Starts Closing on: Apr 27, 2018, 18:00:00 PM CST
You are high bidder, your max bid is

YOU WON THIS LOT

YOU ARE OUT

YOU DID NOT WIN THIS LOT


High Bid: $2,600.00 Minimum Next Bid: $2,700.00 Starting Bid: $2,700.00

SIRE: Baldridge Territory Z068
DAM: Cox Z06C 4025
closed
Closes in:
Auction Starts Closing on: Apr 27, 2018, 18:00:00 PM CST
You are high bidder, your max bid is

YOU WON THIS LOT

YOU ARE OUT

YOU DID NOT WIN THIS LOT


High Bid: $2,500.00 Minimum Next Bid: $2,600.00 Starting Bid: $2,600.00

SIRE: RES Ten X 029 7008 4106
DAM: RES Primrose 9202 0035 101
closed
Closes in:
Auction Starts Closing on: Apr 27, 2018, 18:00:00 PM CST
You are high bidder, your max bid is

YOU WON THIS LOT

YOU ARE OUT

YOU DID NOT WIN THIS LOT


High Bid: $2,700.00 Minimum Next Bid: $2,800.00 Starting Bid: $2,800.00

SIRE: STS RGR Objective 3422
DAM: STS RGR New Design 1318
closed
Closes in:
Auction Starts Closing on: Apr 27, 2018, 18:00:00 PM CST
You are high bidder, your max bid is

YOU WON THIS LOT

YOU ARE OUT

YOU DID NOT WIN THIS LOT


High Bid: $2,500.00 Minimum Next Bid: $2,600.00 Starting Bid: $2,600.00

SIRE: STS RGR Objective 3422
DAM: STS RGR Blackcap 1215
closed
Closes in:
Auction Starts Closing on: Apr 27, 2018, 18:00:00 PM CST
You are high bidder, your max bid is

YOU WON THIS LOT

YOU ARE OUT

YOU DID NOT WIN THIS LOT


High Bid: $2,500.00 Minimum Next Bid: $2,600.00 Starting Bid: $2,600.00

SIRE: STS RGR Objective 3422
DAM: STS RGR Eileen 2110
closed
Closes in:
Auction Starts Closing on: Apr 27, 2018, 18:00:00 PM CST
You are high bidder, your max bid is

YOU WON THIS LOT

YOU ARE OUT

YOU DID NOT WIN THIS LOT


High Bid: $2,500.00 Minimum Next Bid: $2,600.00 Starting Bid: $2,600.00

SIRE: EF Commando 1366
DAM: STS RGR Expectation 3106
closed
Closes in:
Auction Starts Closing on: Apr 27, 2018, 18:00:00 PM CST
You are high bidder, your max bid is

YOU WON THIS LOT

YOU ARE OUT

YOU DID NOT WIN THIS LOT


High Bid: $.00 Minimum Next Bid: $2,500.00 Starting Bid: $2,500.00

SIRE: STS RGR All In 4336
DAM: STS RGR Vickie 4132
closed
Closes in:
Auction Starts Closing on: Apr 27, 2018, 18:00:00 PM CST
You are high bidder, your max bid is

YOU WON THIS LOT

YOU ARE OUT

YOU DID NOT WIN THIS LOT


High Bid: $2,500.00 Minimum Next Bid: $2,600.00 Starting Bid: $2,600.00

SIRE: K C F Bennett Absolute
DAM: Goode 454 New Day 0238
closed
Closes in:
Auction Starts Closing on: Apr 27, 2018, 18:00:00 PM CST
You are high bidder, your max bid is

YOU WON THIS LOT

YOU ARE OUT

YOU DID NOT WIN THIS LOT


High Bid: $.00 Minimum Next Bid: $2,500.00 Starting Bid: $2,500.00

SIRE: K C F Bennett Absolute
DAM: Exar Rita 9224
closed
Closes in:
Auction Starts Closing on: Apr 27, 2018, 18:00:00 PM CST
You are high bidder, your max bid is

YOU WON THIS LOT

YOU ARE OUT

YOU DID NOT WIN THIS LOT


High Bid: $.00 Minimum Next Bid: $2,500.00 Starting Bid: $2,500.00

SIRE: GAR OZH 4268 FD S09D5
DAM: LD Alice 3402
closed
Closes in:
Auction Starts Closing on: Apr 27, 2018, 18:00:00 PM CST
You are high bidder, your max bid is

YOU WON THIS LOT

YOU ARE OUT

YOU DID NOT WIN THIS LOT


High Bid: $.00 Minimum Next Bid: $2,500.00 Starting Bid: $2,500.00

SIRE: STS RGR Ingenuity 3215
DAM: STS RGR Barbara 3339
closed
Closes in:
Auction Starts Closing on: Apr 27, 2018, 18:00:00 PM CST
You are high bidder, your max bid is

YOU WON THIS LOT

YOU ARE OUT

YOU DID NOT WIN THIS LOT


High Bid: $2,500.00 Minimum Next Bid: $2,600.00 Starting Bid: $2,600.00

SIRE: GAR OZH 4268 FD S09D5
DAM: EXAR Blackbird 1343
closed
Closes in:
Auction Starts Closing on: Apr 27, 2018, 18:00:00 PM CST
You are high bidder, your max bid is

YOU WON THIS LOT

YOU ARE OUT

YOU DID NOT WIN THIS LOT


High Bid: $.00 Minimum Next Bid: $2,500.00 Starting Bid: $2,500.00

SIRE: GAR OZH 4268 FD S09D5
DAM: BJ Complete 1240
closed
Closes in:
Auction Starts Closing on: Apr 27, 2018, 18:00:00 PM CST
You are high bidder, your max bid is

YOU WON THIS LOT

YOU ARE OUT

YOU DID NOT WIN THIS LOT


High Bid: $.00 Minimum Next Bid: $2,500.00 Starting Bid: $2,500.00

SIRE: STS RGR Ingenuity 3215
DAM: MJM Power Tool 370
closed
Closes in:
Auction Starts Closing on: Apr 27, 2018, 18:00:00 PM CST
You are high bidder, your max bid is

YOU WON THIS LOT

YOU ARE OUT

YOU DID NOT WIN THIS LOT


High Bid: $.00 Minimum Next Bid: $2,500.00 Starting Bid: $2,500.00

SIRE: STS RGR Ingenuity 3215
DAM: Goode 5050 New Design 736
closed
Closes in:
Auction Starts Closing on: Apr 27, 2018, 18:00:00 PM CST
You are high bidder, your max bid is

YOU WON THIS LOT

YOU ARE OUT

YOU DID NOT WIN THIS LOT


High Bid: $.00 Minimum Next Bid: $2,500.00 Starting Bid: $2,500.00

SIRE: STS RGR Objective 3422
DAM: STS RGR 1I2 Rito 2219
closed
Closes in:
Auction Starts Closing on: Apr 27, 2018, 18:00:00 PM CST
You are high bidder, your max bid is

YOU WON THIS LOT

YOU ARE OUT

YOU DID NOT WIN THIS LOT


High Bid: $2,500.00 Minimum Next Bid: $2,600.00 Starting Bid: $2,600.00

SIRE: STS RGR Objective 3422
DAM: STS RGR 1I2 Rito 1316
closed
Closes in:
Auction Starts Closing on: Apr 27, 2018, 18:00:00 PM CST
You are high bidder, your max bid is

YOU WON THIS LOT

YOU ARE OUT

YOU DID NOT WIN THIS LOT


High Bid: $.00 Minimum Next Bid: $2,500.00 Starting Bid: $2,500.00

SIRE: STS RGR Objective 3422
DAM: STS RGR Jennifer 2306
closed
Closes in:
Auction Starts Closing on: Apr 27, 2018, 18:00:00 PM CST
You are high bidder, your max bid is

YOU WON THIS LOT

YOU ARE OUT

YOU DID NOT WIN THIS LOT


High Bid: $2,800.00 Minimum Next Bid: $2,900.00 Starting Bid: $2,900.00

SIRE: STS RGR Objective 3422
DAM: STS RGR Expectation 2104
closed
Closes in:
Auction Starts Closing on: Apr 27, 2018, 18:00:00 PM CST
You are high bidder, your max bid is

YOU WON THIS LOT

YOU ARE OUT

YOU DID NOT WIN THIS LOT


High Bid: $.00 Minimum Next Bid: $2,500.00 Starting Bid: $2,500.00

SIRE: STS RGR Objective 3422
DAM: STS RGR Eriskay 2626
closed
Closes in:
Auction Starts Closing on: Apr 27, 2018, 18:00:00 PM CST
You are high bidder, your max bid is

YOU WON THIS LOT

YOU ARE OUT

YOU DID NOT WIN THIS LOT


High Bid: $.00 Minimum Next Bid: $2,500.00 Starting Bid: $2,500.00

SIRE: STS RGR Objective 3422
DAM: 2 Bar Deaf Smith 3619
closed
Closes in:
Auction Starts Closing on: Apr 27, 2018, 18:00:00 PM CST
You are high bidder, your max bid is

YOU WON THIS LOT

YOU ARE OUT

YOU DID NOT WIN THIS LOT


High Bid: $.00 Minimum Next Bid: $2,500.00 Starting Bid: $2,500.00

SIRE: STS RGR Ingenuity 3215
DAM: EF Blackcap 1312
closed
Closes in:
Auction Starts Closing on: Apr 27, 2018, 18:00:00 PM CST
You are high bidder, your max bid is

YOU WON THIS LOT

YOU ARE OUT

YOU DID NOT WIN THIS LOT


High Bid: $2,500.00 Minimum Next Bid: $2,600.00 Starting Bid: $2,600.00

SIRE: STS RGR Ingenuity 3215
DAM: EXAR Wendy 9416
closed
Closes in:
Auction Starts Closing on: Apr 27, 2018, 18:00:00 PM CST
You are high bidder, your max bid is

YOU WON THIS LOT

YOU ARE OUT

YOU DID NOT WIN THIS LOT


High Bid: $2,500.00 Minimum Next Bid: $2,600.00 Starting Bid: $2,600.00

SIRE: STS RGR All In 4336
DAM: STS RGR High Design 3153
closed
Closes in:
Auction Starts Closing on: Apr 27, 2018, 18:00:00 PM CST
You are high bidder, your max bid is

YOU WON THIS LOT

YOU ARE OUT

YOU DID NOT WIN THIS LOT


High Bid: $2,500.00 Minimum Next Bid: $2,600.00 Starting Bid: $2,600.00

SIRE: STS RGR Objective 3422
DAM: Ranger 1407 Design 0202
closed
Closes in:
Auction Starts Closing on: Apr 27, 2018, 18:00:00 PM CST
You are high bidder, your max bid is

YOU WON THIS LOT

YOU ARE OUT

YOU DID NOT WIN THIS LOT


High Bid: $2,500.00 Minimum Next Bid: $2,600.00 Starting Bid: $2,600.00

SIRE: STS RGR Objective 3422
DAM: Ranger Windcharm 0404
closed
Closes in:
Auction Starts Closing on: Apr 27, 2018, 18:00:00 PM CST
You are high bidder, your max bid is

YOU WON THIS LOT

YOU ARE OUT

YOU DID NOT WIN THIS LOT


High Bid: $2,500.00 Minimum Next Bid: $2,600.00 Starting Bid: $2,600.00

SIRE: STS RGR Prophet 3131
DAM: Ranger Eileen 0208
closed
Closes in:
Auction Starts Closing on: Apr 27, 2018, 18:00:00 PM CST
You are high bidder, your max bid is

YOU WON THIS LOT

YOU ARE OUT

YOU DID NOT WIN THIS LOT


High Bid: $.00 Minimum Next Bid: $2,500.00 Starting Bid: $2,500.00